Tripawds is a user-supported community. Thank you for your support!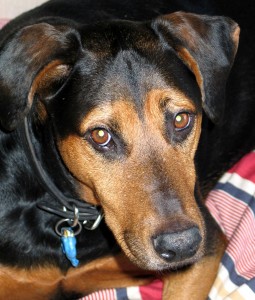 If anyone had told me a decade ago that someday, I would give birth to twin girls AND been the owner of a three-legged dog, I would have told them they were full of you-know-what! I suppose strolling through the neighborhood with three girls under the age of three (I have a preschooler, too) and a 100 pound Doberman mix wasn't enough of an attention getter!
In all honesty, I think hubs and I are still in a bit of shock since learning last Saturday that our darling first child is joining the tripawd club. We were scared, we cried, we felt guilty…and then, it all became so clear that this will be the absolutely right thing to do for Mika. She's had a granuloma for years on her right cankle that has been bothering her. Lick. Swell. Cone-head. Repeat. So what started out as a not-so- unusual trip to the vet for her hot spot, ended up being a cancer diagnosis and recommendation of a full leg amputation. Damn!
But I'm good now. I had my day of tears and fretting and have moved on, knowing with all my heart that she's going to be just fine. Most importantly, I'm looking forward to having my sweet pup pain-free and happy again.
Now I just need to figure out how I'm going to tell her…
~ Mari