Tripawds is a user-supported community. Thank you for your support!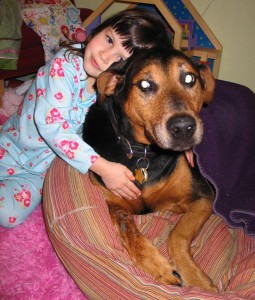 The night before Mika's amputation, my preschooler was expressing some concern that Mika would be sad about losing her leg. Accordingly, she wondered aloud, "Maybe Dr. K can also tell Mika some jokes to make her feel better like this, 'Blah, blah, blah cross the road?' Then Mika will say, 'Awroo~ Awroo~'." LOL
Although my toddler twins don't quite understand what happened, my four year old is very happy to tell anyone and everyone that she has a three-legged dog now. LOL At the grocery last night, I let her pick a toy for Mika and when another shopper asked her, "Is that for your doggie?", Naomi piped up, "Yes, she had an owie leg so the vet took it off. Mika lost her leg, but found her happiness…"
Just last night, she also asked my husband when the vet was going to put Mika's leg back on. Uhhhh…
I have to admit, we are very relieved that even the kids understand that Mika's amputation has been a PAWsative experience!